Sustainability
Swisstainability (Swiss Tourism)
Sustainable development is «development that meets the needs of the present without compromising the ability of future generations to meet their own needs».
Mrs Gro Harlem Brundtland, Prime Minister of Norway (1987)
Distance heating of the city of Lausanne
Our heat production solutions are particularly rational and ecological, as they are based on energy recovery (incineration of household waste and sewage sludge) and they integrate an increasingly large share of renewable energy.
Services Industriels de Lausanne
lausanne.ch
---
ILS / Our laundry partner
Like you, we are committed to promoting and securing jobs in Switzerland, but also to sustainable development and environmental protection, are important issues that are part of our daily lives.
This label guarantees:
- hygienic treatment of linen in Switzerland
- Textile care with an emphasis on sustainability and respect for the
the environment
- short transport routes
- secure jobs
www.textileswashedinswitzerland.ch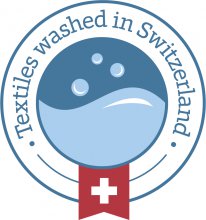 ---
ISO 14001 - environmental management
EnzlerH-Pro / Our Housekeeping partner
Hygiene and cleanliness are essential to the success of every hotel and have a direct influence on guest satisfaction.
Housekeeping and room maintenance
Adapted to your expectations of the quality of housekeeping and room maintenance, we plan and carry out the maintenance of the rooms and floors according to your needs. Our qualified housekeepers are our privileged interlocutors between your establishment and our company. Thanks to our continuous quality control, we can assure you of a constant quality.
Use of Ecolabel certified products (R2, R7, R9 Pur Eco)
---
Mirabeau Environmental charter
We are participating in the Swisstainable sustainability program of Swiss Tourism and meet the criteria for Level II "engaged". Validity till 27.04.2024
The Best Western Plus Mirabeau Hotel is committed to the environment and has already taken the following measures
Energy:
All our rooms, offices and a large part of the public areas, are equipped with energy saving light bulbs (LED).
Please close the windows when the heating or air conditioning is on, and turn off the TV and lights when leaving your room.
Remote heating with the City of Lausanne (30% renewable energy).
Air conditioning:
The rooms are equipped with air conditioning. In order to guarantee a good functioning, it is necessary to close the windows when the air conditioning is on. The system is only activated during the summer months when the outside temperature is above 24c°.
Cleaning products for the rooms:
Switch to a range of ECO products "SURE" with our partner (EnzlerH-Pro).
Water:
Our taps are equipped with water saving devices. Do not let the water run unnecessarily.
In order not to disturb the good functioning of the water treatment plant, please do not throw toxic products in the sinks and toilets.
To limit the impact of laundry on the environment please refer to the note next to the terry cloths.
Recycling:
We selectively sort our waste (paper, glass, metal, pet, washing, toner, batteries, ....). They are then recycled. Introduction of a waste sorting system in rooms (TEST phase in 7 rooms).
Transportation:
During your stay, you can use the services of the Lausanne Public Transport (Mobilis) for free. Transport cards are given to you at check-in.
Region:
We collaborate with local suppliers and favor regional products. We are part of the VAUD Œnotouristique program.
Sponsorship:
Support to the association "Printemps d'abeilles" (Sponsorship of a beehive in Ecublens)