Sustainability
Swisstainability (Swiss Tourism)
Sustainable development is «development that meets the needs of the present without compromising the ability of future generations to meet their own needs».
Mrs Gro Harlem Brundtland, Prime Minister of Norway (1987)
Our heat production solutions are particularly rational and ecological, as they are based on energy recovery (incineration of household waste and sewage sludge) and they integrate an increasingly large share of renewable energy.
Services Industriels de Lausanne
lausanne.ch
---
ILS / Our laundry partner
Like you, we are committed to promoting and securing jobs in Switzerland, but also to sustainable development and environmental protection, are important issues that are part of our daily lives.
This label guarantees:
- hygienic treatment of linen in Switzerland
- Textile care with an emphasis on sustainability and respect for the
the environment
- short transport routes
- secure jobs
www.textileswashedinswitzerland.ch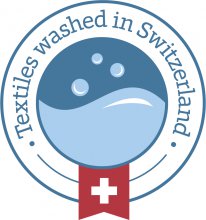 ---
ISO 14001 - environmental management
EnzlerH-Pro / Our Housekeeping partner
Hygiene and cleanliness are essential to the success of every hotel and have a direct influence on guest satisfaction.
Housekeeping and room maintenance
Adapted to your expectations of the quality of housekeeping and room maintenance, we plan and carry out the maintenance of the rooms and floors according to your needs. Our qualified housekeepers are our privileged interlocutors between your establishment and our company. Thanks to our continuous quality control, we can assure you of a constant quality.