Certified "Vaud Wine Tourism" establishment
The county of Vaud, a wine-producing canton and a land for gourmets, is a region of excellence.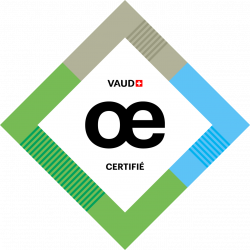 The "Vaud Wine Tourism" certification distinguishes those Vaudois professionals in the hotel and catering trades as well as in the field of wines and good taste, who attach great importance to providing top-quality tourist and gourmet offers.
Initiated by the canton of Vaud, the "Vaud Wine Tourism" certification has created a network of venues where
you can discover, share and above all taste Vaudois terroir products!
Vaud wines, Appellations & Terroirs
Dézaley Grand Cru
The Dézaley wine area, located entirely within the district of Puidoux, is marked by abrupt slopes and stone walls that hug the hillside.
Chasselas reigns supreme here, covering 90% of Dézaley's surface area. The terraced vines' exceptional exposure results in full-bodied wines with a remarkably long finish.
These are complex, wellstructured wines, with notes of almond and toast, ending with tea and honey notes.
---
Calamin wines are classy and dense: they are characteristically smooth on the palate, slightly sappy and bitter, which adds a touch of virility.
---
Abundant sunshine is available thanks to the vines' ideal exposure, reflected sun from the lake and sunshine stored in the terraced stone walls.
---
Elegant, aromatic and rich, Chablais wines are renowned for their fruity nose with flint notes.
---
La Côte
La Côte is the wine region between Nyon and Lausanne. It benefits from the protection of the Jura mountains and Lake Geneva's moderating temperatures.
The wines vary depending on the soil: loose gravel at lower elevations near the lake
yields very elegant wines while heavier soil at higher elevations produces more structured wines.
The La côte wines are marked by floral and fruit notes.
---
Bonvillars
The shores of Lake Neuchâtel on the canton of Vaud side are home to the Bonvillars wineproducing area. Precipitation here is the canton's lowest and the area enjoys a very favourable microclimate.
It stretches from Montagny-près-Yverdon to Concise, with a smattering of small villages in between.
The wines take their characteristic notes from the limestone rock and the gravelly, mineral soil that marks the terroir.
---
Côtes de l'Orbe
Halfway between Lake Geneva and Lake Neuchâtel is the Côtes-de-l'Orbe wine region, which stretches across some 20 towns and villages, from La Sarraz to Yverdon-les-Bains.
Molasse, limestone and clay soils give the area its diverse terroirs, with grapevines benefiting from mostly southerly exposures.
The Côtes-de-l'Orbe's dry climate is ideal for red grapes, which account for 75% of wine production.
---
Vully
The Vully wine region, in the foothills of Mont Vully, straddles an area bordered by the cantons of Fribourg and Vaud.
It sits on Aquitanian limestone deposits with layers of sandstone and marl that resemble each other closely. The small but highly regarded Vully wine area totals some 153 ha, of which 51 ha are in canton of Vaud and 102 ha in canton of Fribourg.
Its delicate wines are well-balanced, full and round, with notes of citrus fruits.
Source : Office des Vins Vaudois, Mémo des Vins Vaudois.